Well-designed Halloween candy packaging can bring your products to the top of trick-or-treat favorites. But it doesn't have to be just candy. We want to inspire you to make great designs with these examples.
Spooky season is here.
Autumn is such a colorful season. It is the coziest season with all the reds and browns in nature, warm sweaters, and hot chocolate. But the crisp air, winds, and lingering dark also make it chilling. This is just the reason we crave products, movies, and music that are both cozy and a little scary.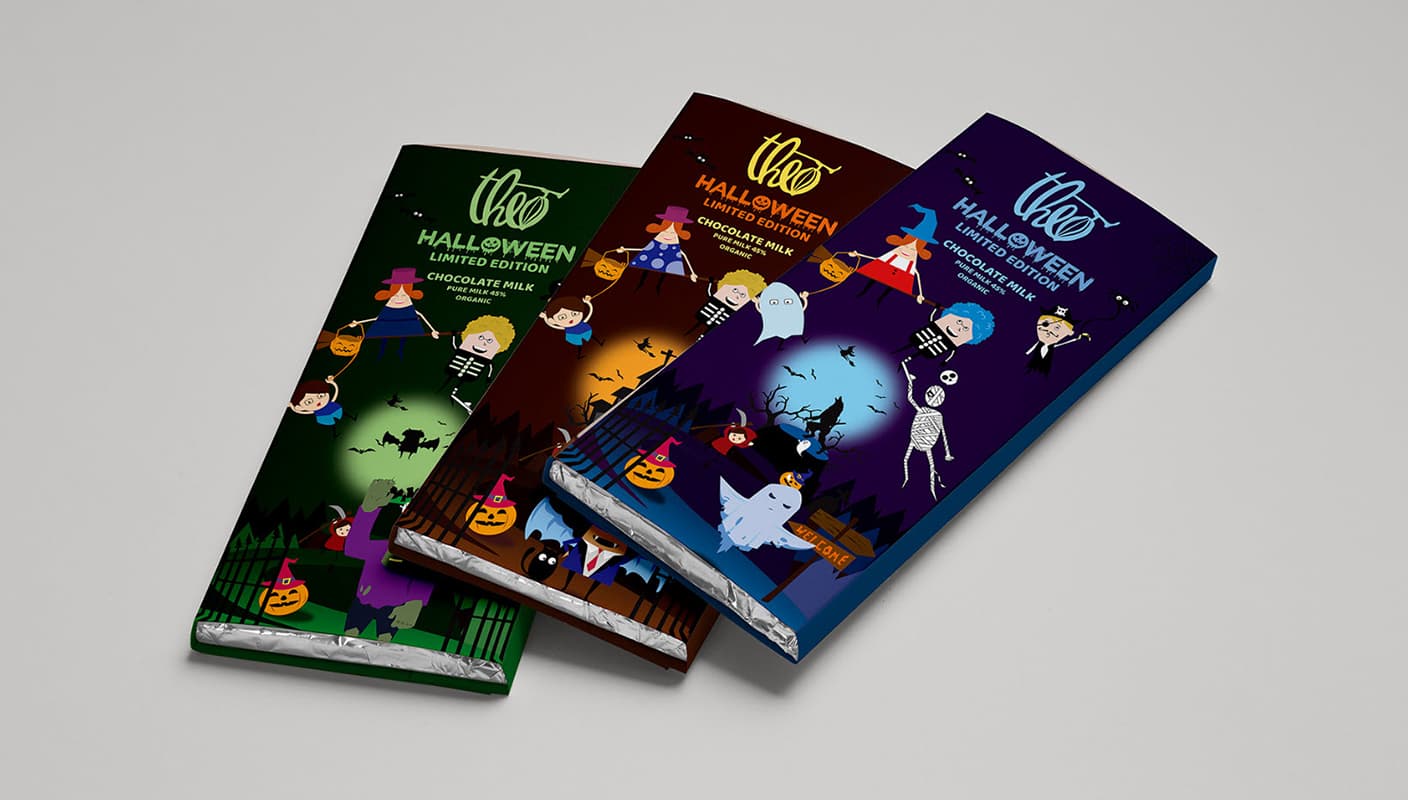 We all know that Halloween is the most important night of the season. This one night brings the perfect combo of scary and fun for all generations. Trick or treaters choose their new favorites for the season, and if you do your Halloween candy packaging right, your product can be one of them.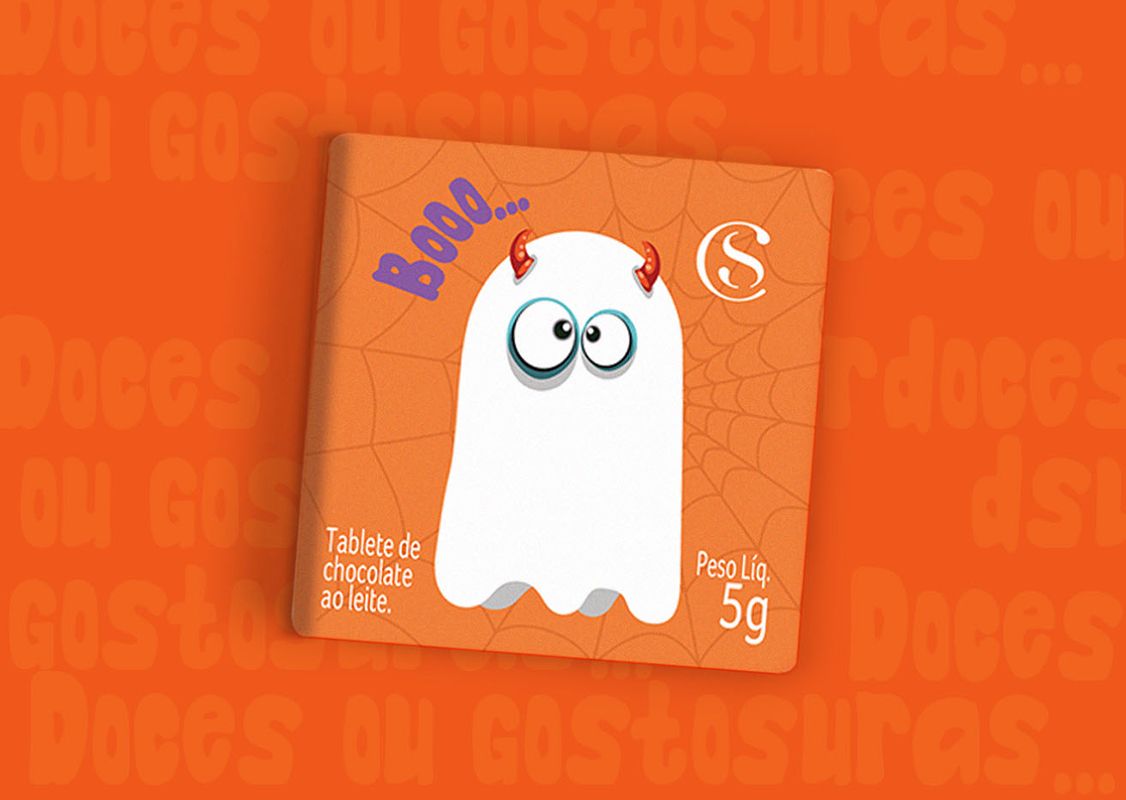 But don't worry if you are not in the candy business. Your business can benefit from Halloween design and increase sales of other products too. Or make people want to come to your fabulous party.
Halloween candy packaging ideas and examples
Universally loved characters
Both young children and teenagers will love this colorful and fun Halloween candy packaging design. Which makes it perfect for every household that wants to make Halloween night special for everybody that comes trick or treating. Dracula, Frankenstein's monster, mummies, black cats, ghosts... there's a wide choice of characters that are universally recognized and loved.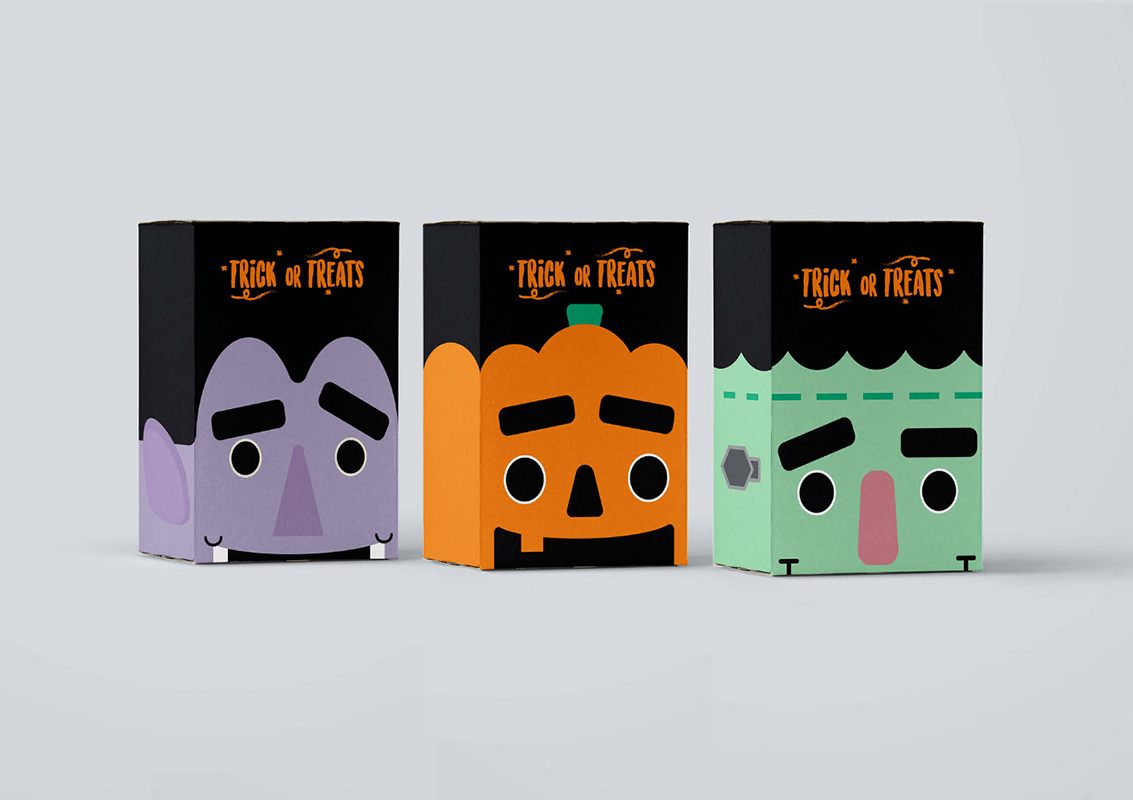 More cute than scary
Monstrous candy is a go-to product for Halloween. But some of us are easily scared, especially very young children. And they, more than anyone, want to be a part of the Halloween hype. The good news is that Halloween candy can be dressed up to look just a little bit spooky. This pastel pink packaging shows that monsters don't have to be scary. They can also be cute. It is your choice how you want to approach the seasonal packaging. Different options are available depending on your product, brand, and customers.
\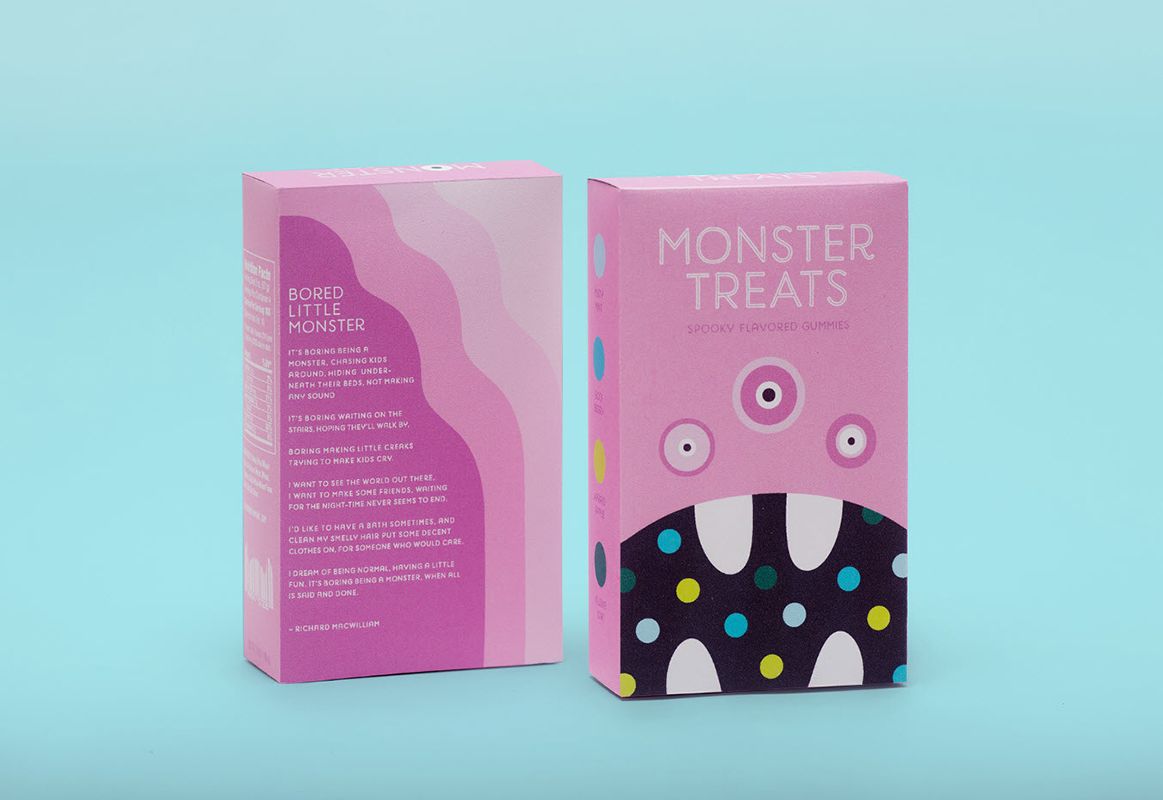 Halloween elegance
Pumpkins are one of the most recognized symbols of the scary season. And the combination of orange and black packaging is just perfect. It is both colorful and elegant and hard to miss. Which is just what you want for your products. You want them to be noticeable and attractive. And, of course, just a little bit scary; 'tis the season, after all.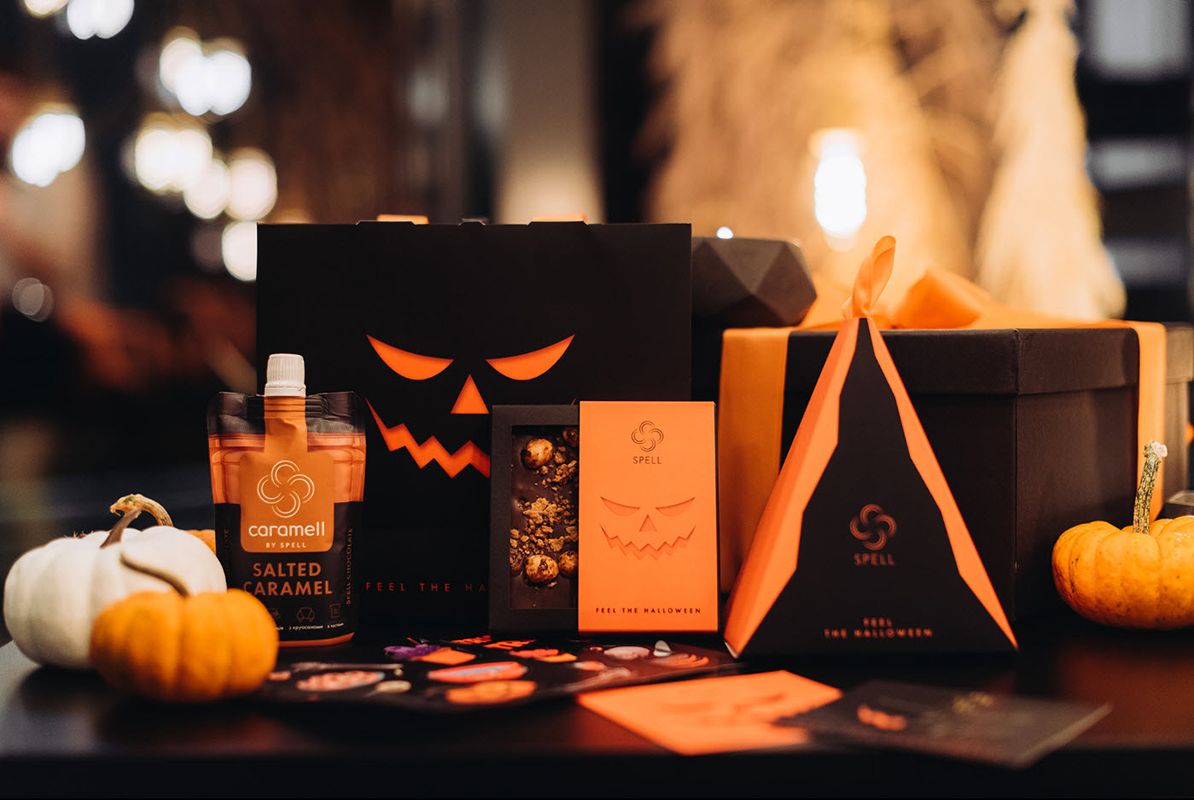 Everybody loves a good wordplay
Make your Halloween candy packaging spooktacular with fun wordplay.
Give your customers a crazy good offer they will love. And if it is paired with witchy vibes, it will surely be a success. Cobwebs, cauldrons, bats, and a cat, there doesn't even have to be a witch in a picture for us to imagine her cottage.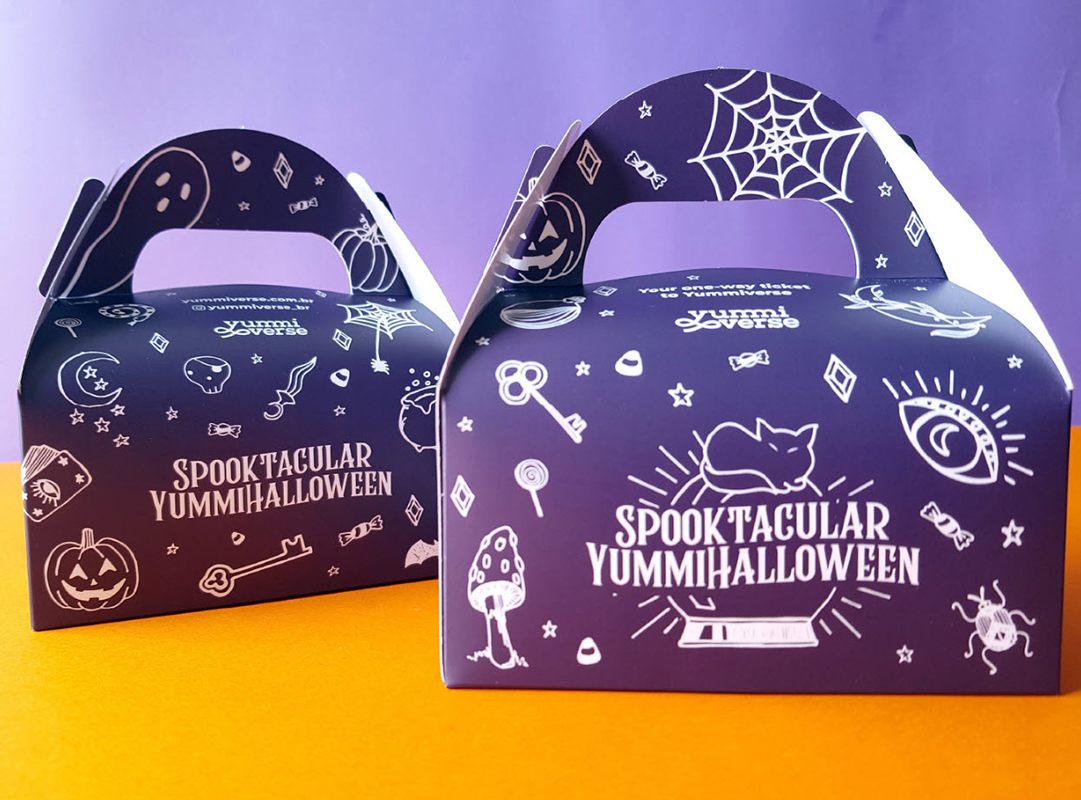 Other Halloween packaging examples
Make that morning coffee extra special
Autumn is the season of pumpkin spice, and everything nice. So why not give your customers what they need and add it to your coffee. And make sure it is evident from the packaging just how unique the blend is. Leaves, pumpkins, and bare trees evoke autumnal feelings perfectly.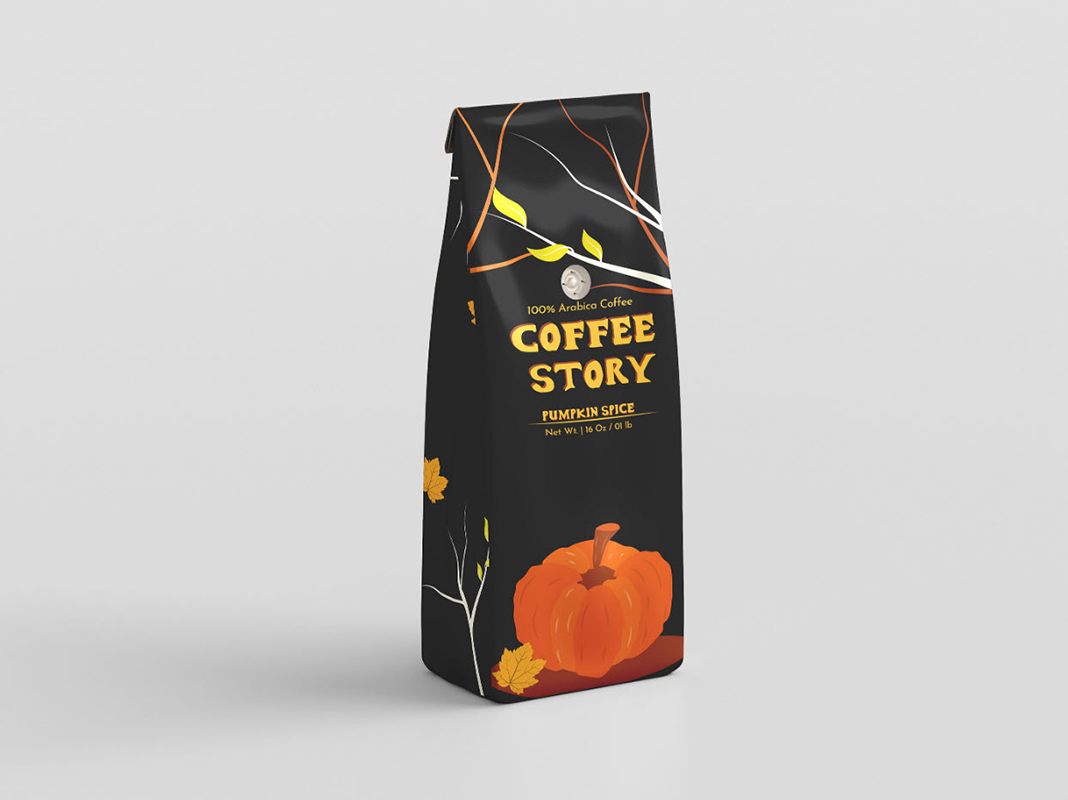 Add a pinch of magic
Everybody knows witches love good wordplay. This "focus pocus" tea promises magical and focused moments during a cold, windy day. The design is both clever and beautiful and gives off the perfect seasonal vibe.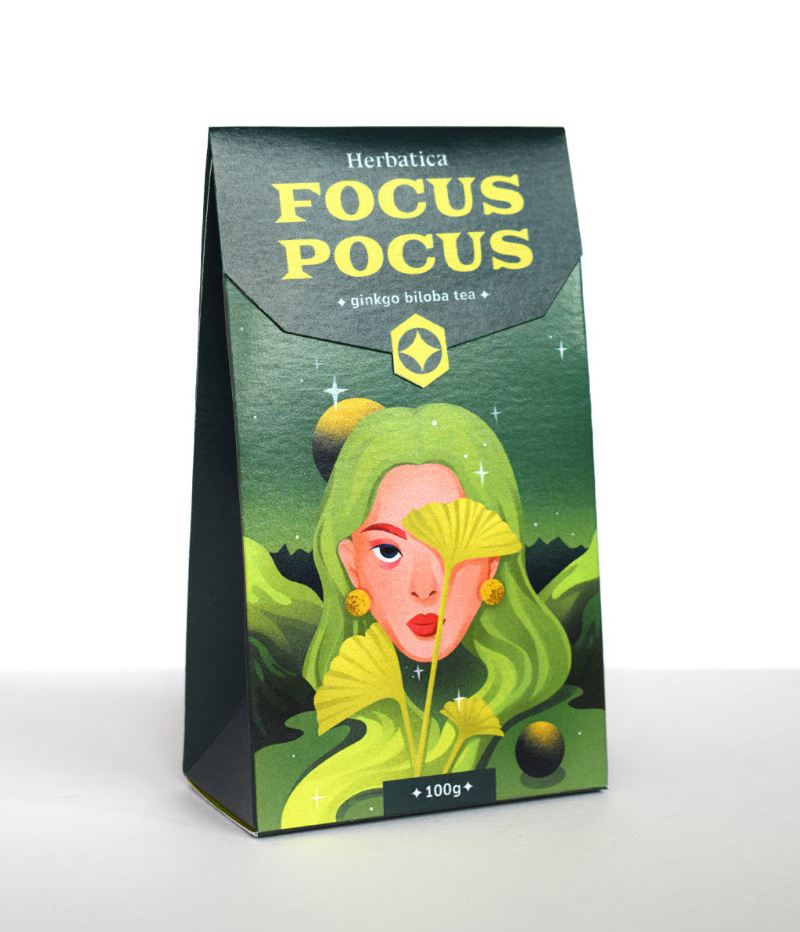 All about the smell
Seasonal candles have been a big hit for a while now. And as we already mentioned, this season is all about pumpkins. Everybody wants to taste them, smell them, and look at them. If you are in the candle business, you can use that hype to your benefit. Make sure your Halloween candle packaging lets your customers know you have what they need. But it is not just the pumpkins you can use. Make your candles look witchy, spooky, autumnal... Anything seasonal usually works well.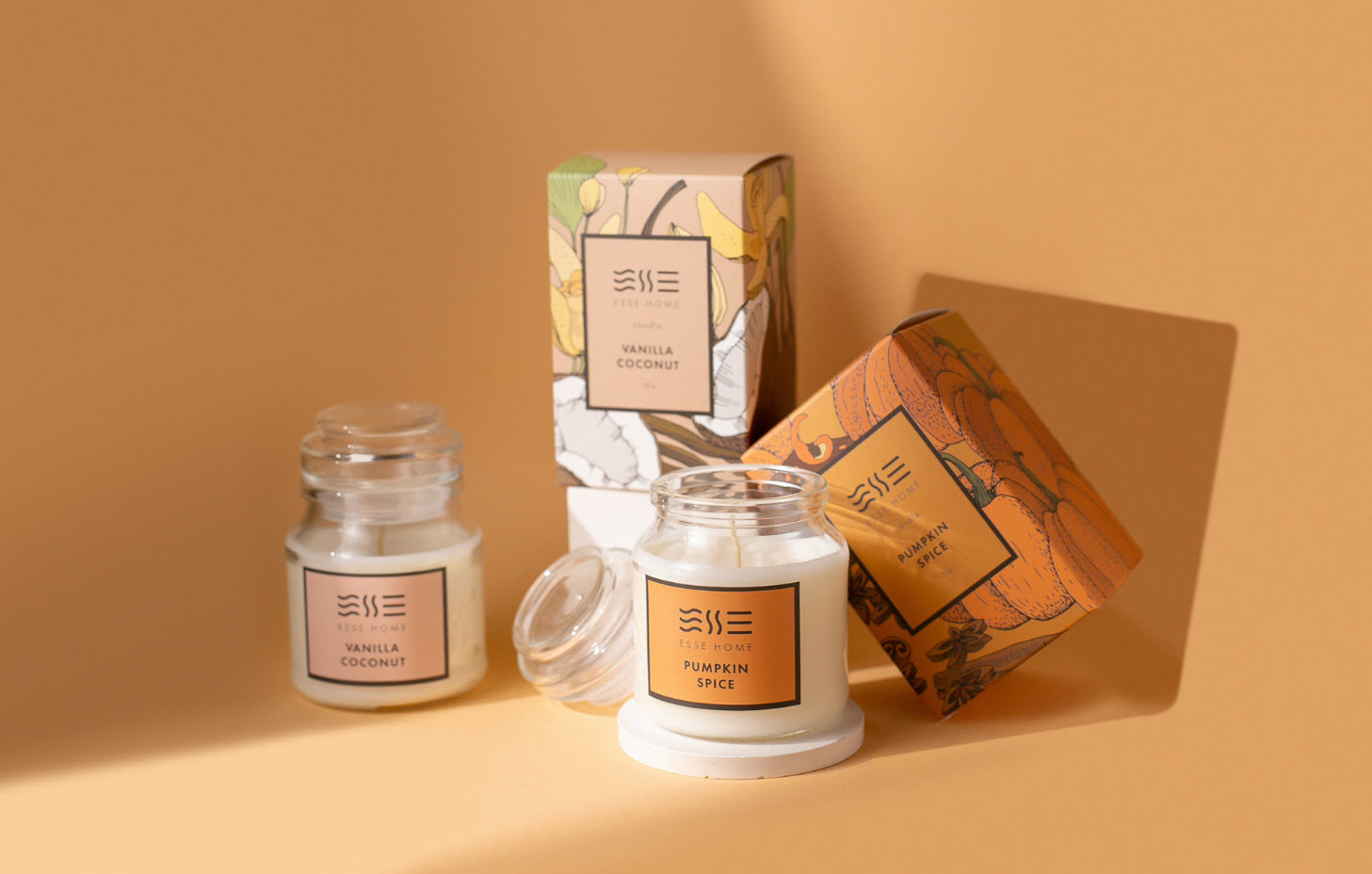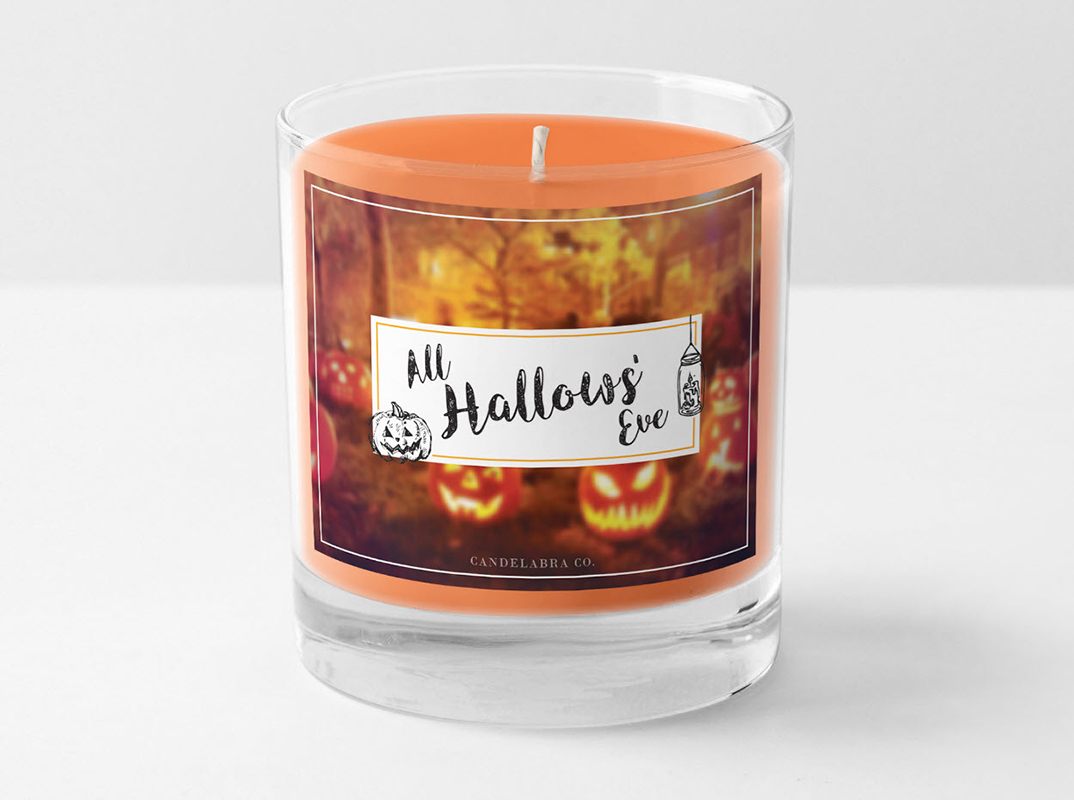 Seasonal Kleenex
This Kleenex packaging idea proves that almost any product packaging can be re-designed to fit the season. After all, we must practice Halloween makeup to ensure everything is perfect when the night comes. And once the party is over, all the witches, vampires, zombies, and other monsters must make themselves look like regular humans once again.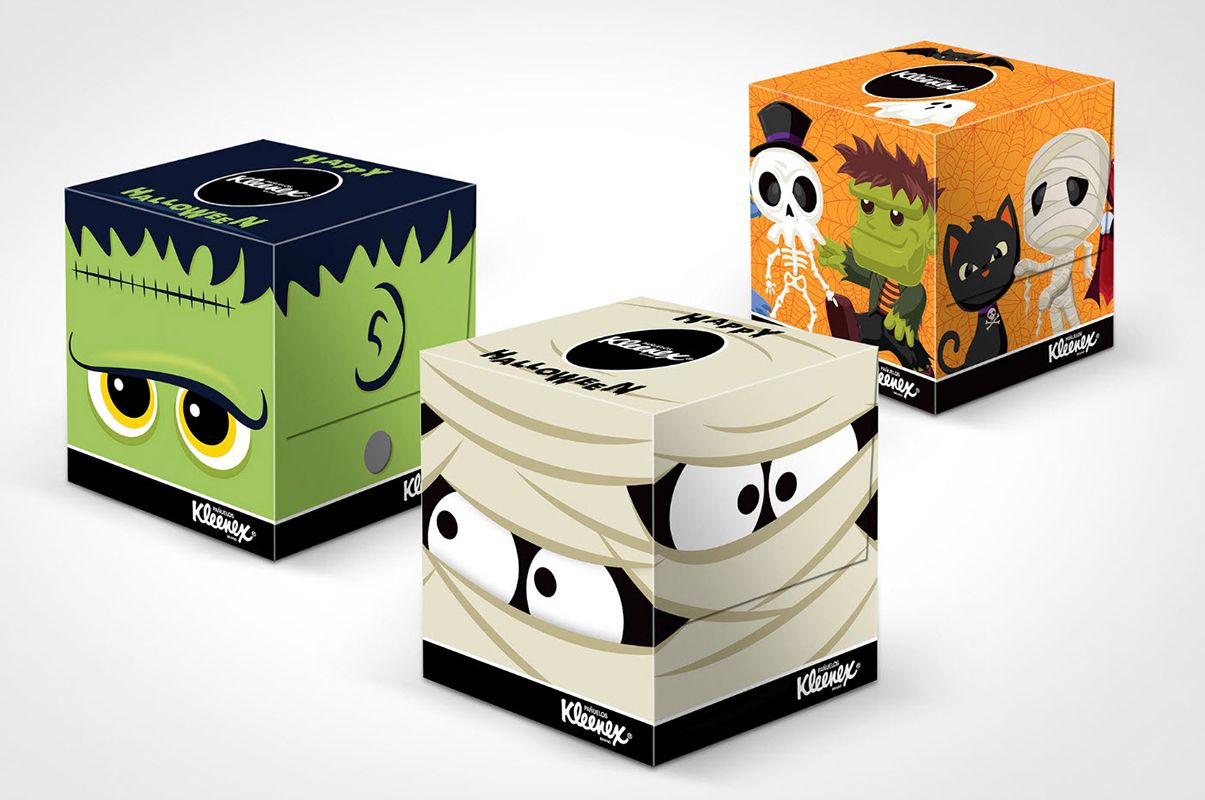 Custom wrapping paper
You want to make an extra effort and make your customers feel the Halloween vibes. But fully customized packaging is too much? There are other options.
This wrapping paper is the perfect choice for the spooky season. It gives witchy vibes without being openly scary. Both light purple tones and darker shades of purple are easy to look at, and the imagery gives off an earthy feeling of connection with nature. It is perfect for modern witches that love the occult and magical but don't want to be connected with a green-faced, monstrous wicked witch.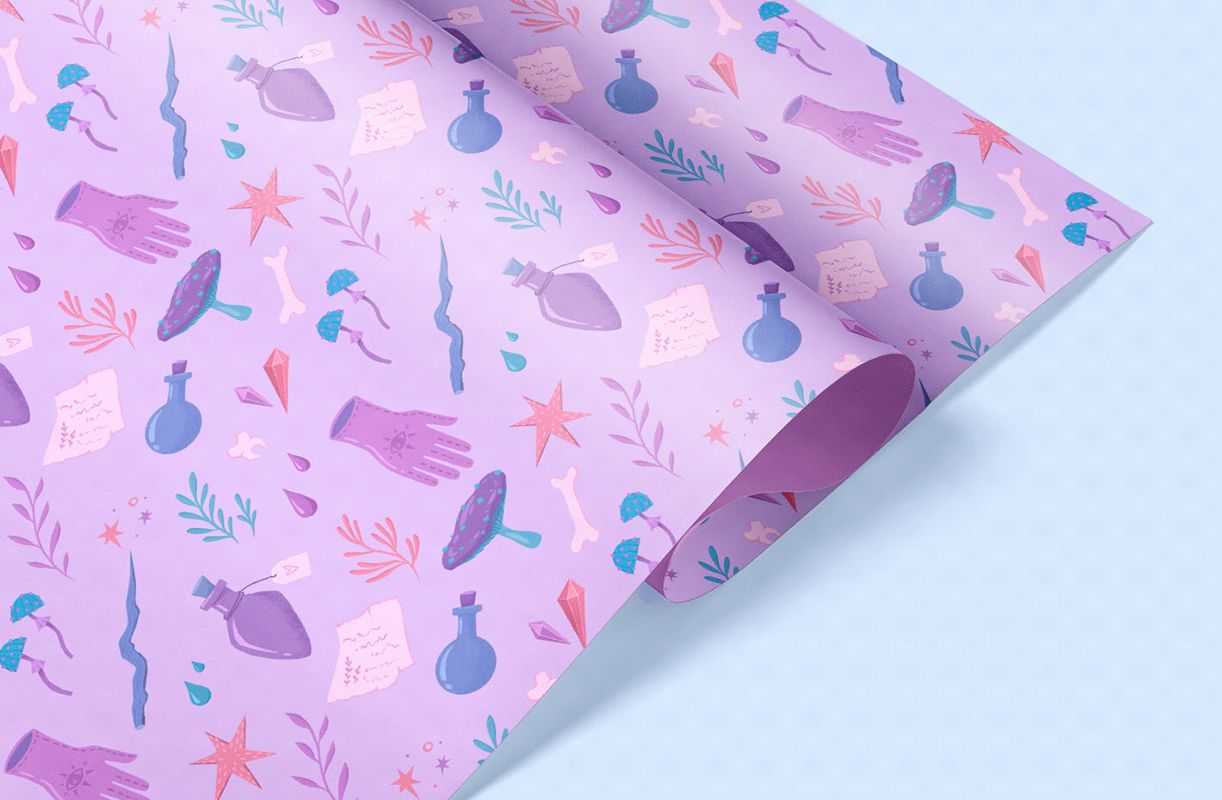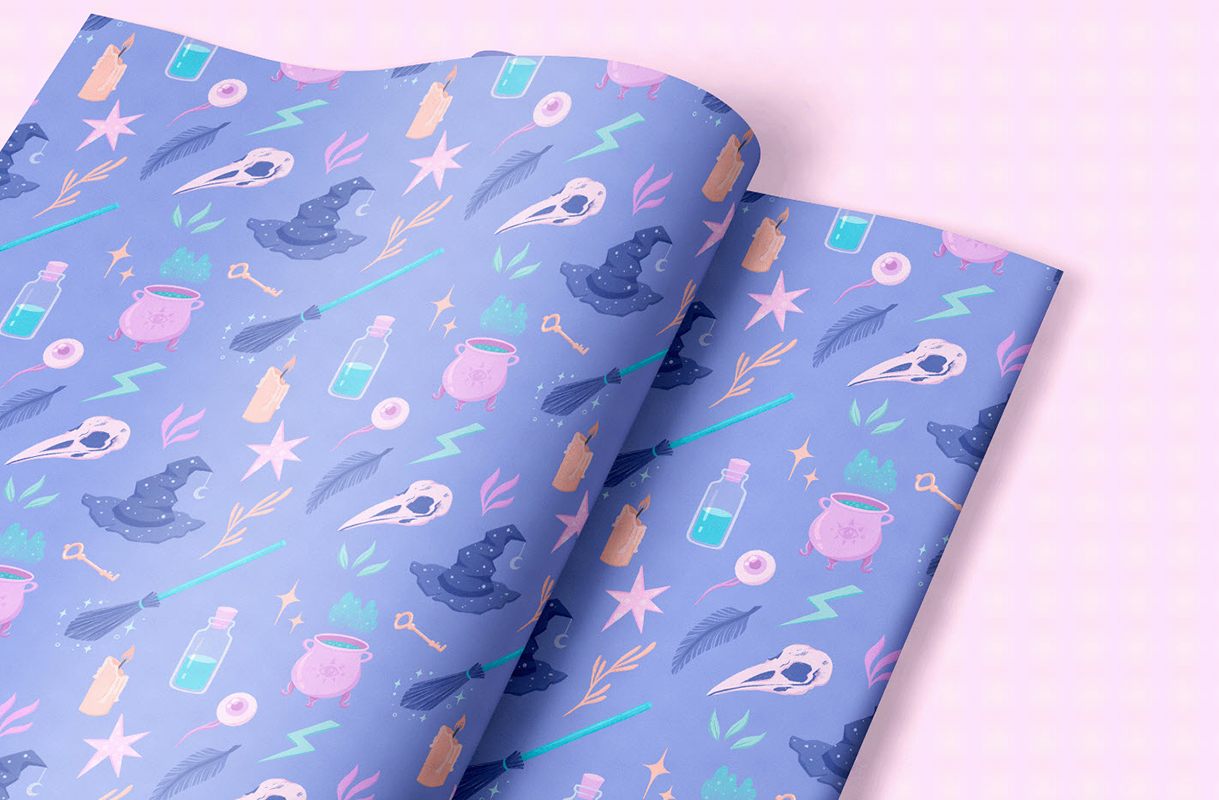 Labels are the perfect customizing option
Labels are an inexpensive and quick way to customize your products for special occasions without going all in and changing the product packaging entirely. Just stick them anywhere you think they fit well, and your products are ready for the season. It is not a lot of effort to make your brand even more memorable than it already is. And also make your customers smile.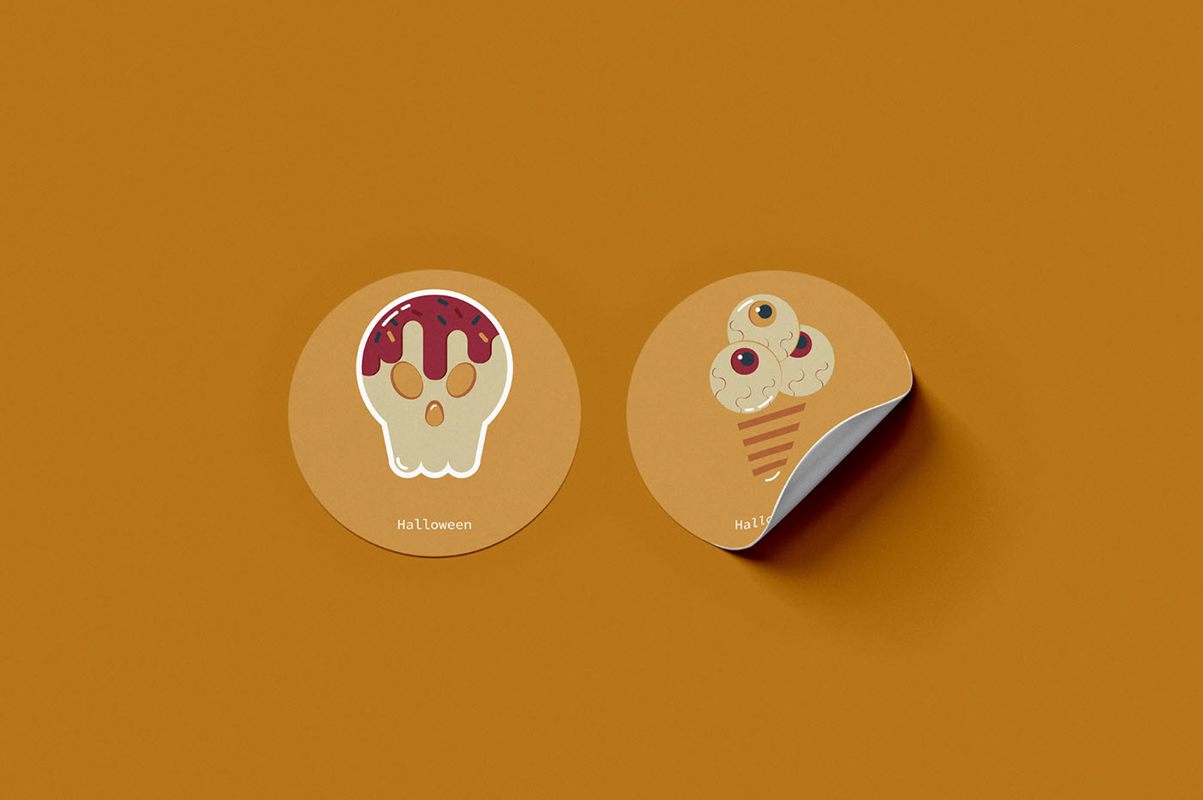 A Halloween party to remember
Invite the crowd
Postcards can be the perfect invitation cards for your Halloween party. As you do not want to really scare off your guest, having the design with cartoonish zombies is a great choice. If you put them in the spotlight, dancing, you are advertising your party as scary fun. Some people will probably keep well-designed invitations as a reminder of a spooky atmosphere and the excellent time they had.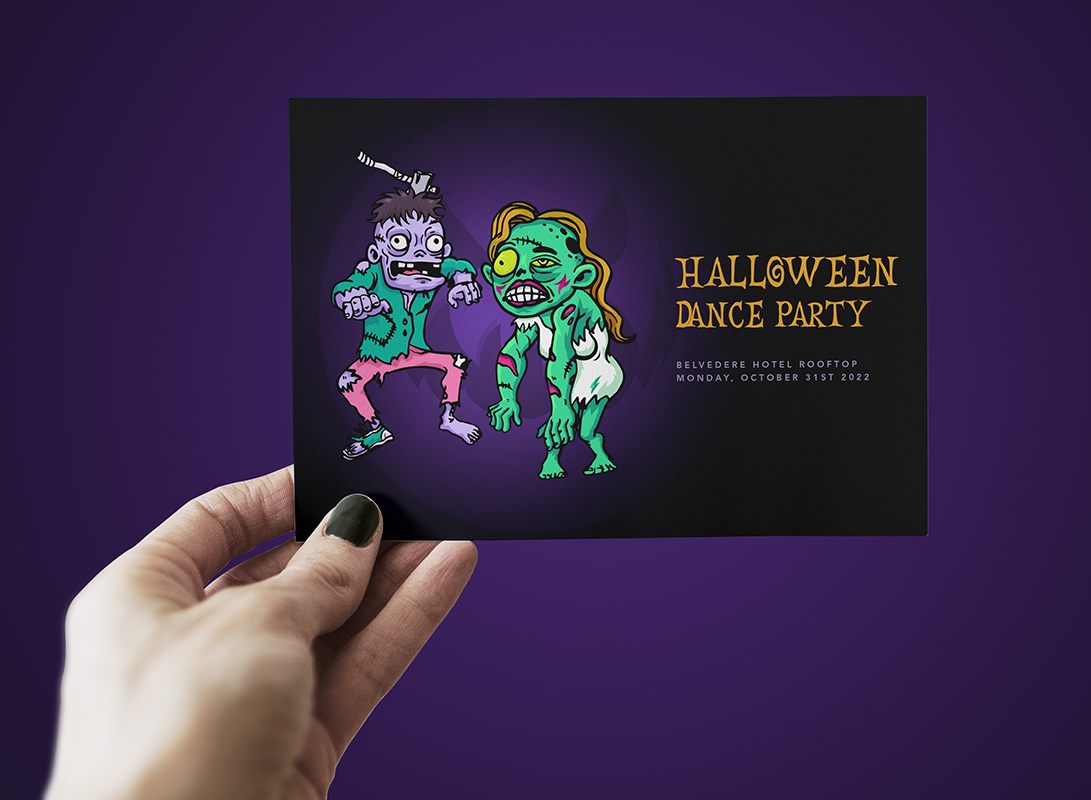 Go big or go home
Posters give you enough space to use all the memorable Halloween imagery you like. Orange and black or purple and black are the usual go-to color combinations. Make sure your poster is noticeable, and don't be scared to use any well-known and well-loved Halloween symbols. The goal is to make it recognizable, after all.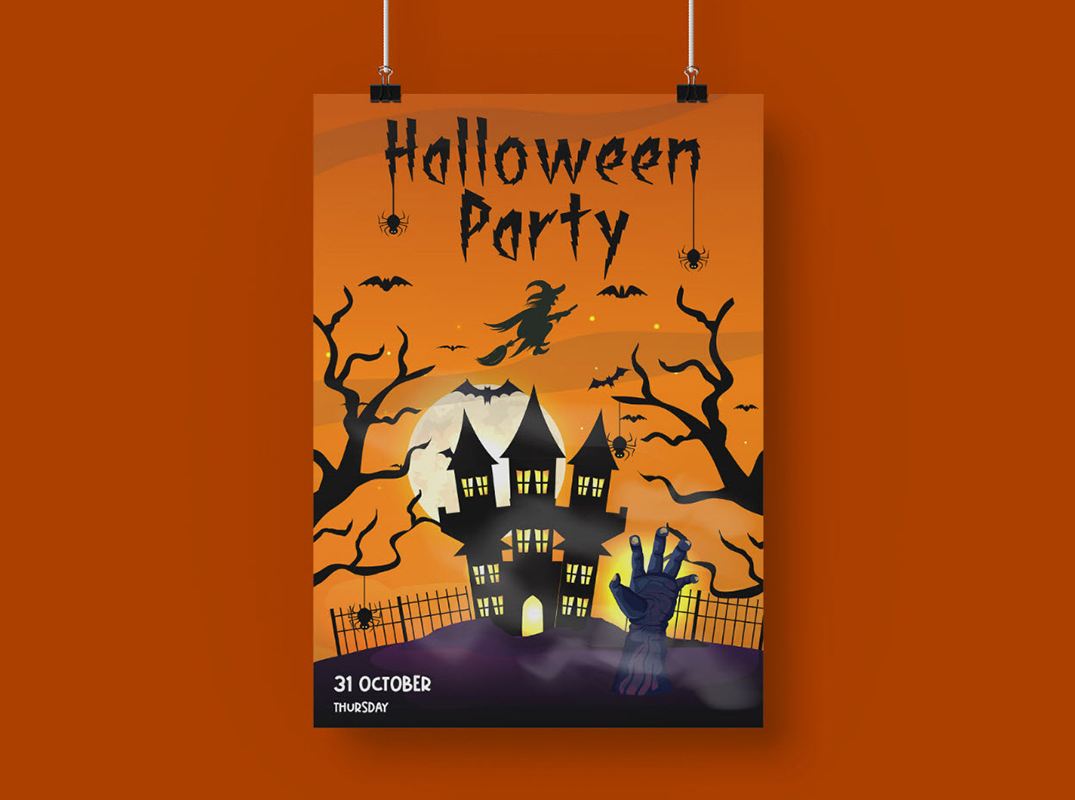 We hope we have inspired you to give your products seasonal re-imagining. And we are sure both your Halloween candy packaging and any other product packaging will look great once you get your designs printed.