"
We keep an eye on the rules and regulations regarding cannabis packaging so that you are always informed about the news and changes.
Health Canada recently ran another Consultation on cannabis regulatory issues, from December 12, 2020, to January 11, 2021. One of the key issues discussed in this consultation was the requirements for product labeling. We are waiting for a broader review of the Cannabis Act later this year to see what will change regarding cannabis packaging regulations and advertising. In the meantime, we are summarizing packaging and labeling rules currently in force.
Short History of Cannabis Regulations
The Cannabis Act and its supporting Regulations came into force on October 17, 2018. The amended Cannabis Regulations came into force on October 17, 2019., when the regulatory framework was established for:
edible cannabis
cannabis extracts
cannabis topicals
These regulations are still in force now.
There were certain amendments (SOR/2022-145, SOR/2022-169, SOR/2022-197) to Cannabis Regulations during 2022. Although they do not directly affect labeling, as a manufacturer you should be aware of them.
In the Forward Regulatory Plan: 2022-2024 , Health Canada is proposing further amendments to Cannabis Regulations, the Industrial Hemp Regulations and the Cannabis Tracking System Order.
On Dec. 2, 2022 (SOR/2022-251, SOR/2022-252), there were amendments concerning cannabis research as well as the Order Amending Schedule 3 to the Cannabis Act. These amendments facilitate non-therapeutic cannabis research and testing and increase the public possession limit for cannabis beverages.
Currently, cannabis product labels are required only to list information about the quantity or concentration of THC and CBD. But, requirements may be expanded to include information about terpenes and other cannabinoids.

1. Standard colour black sans serif font in bold, no italics2. Only one font type3. Minimum 6 points distance from other information4. A white background that extends at least 6 points on all sides away from the information
Packaging Rules and Concerns
Health Canada has created a Packaging and labelling guide for cannabis products to help suppliers better understand and follow Cannabis Packaging Regulations.
Cannabis Packaging Regulations dictate that all cannabis products should be sold in packaging that is tamper-proof and child-resistant. There are restrictions placed on the graphics, colour, and other visual elements to make cannabis less attractive or tempting to young people. This was one of the government's frequently emphasized primary health and safety objectives. Specific information regarding the mandatory warning and potency needs to be printed clearly, in addition to the cannabis symbol.
However, note that these Regulations do not apply to a holder of a licence subject to the Industrial Hemp Regulations or an applicant for such a licence.
As mentioned above, each packaging must have a standardized cannabis symbol. What is this symbol? It is a stop sign that has a cannabis leaf and the letters "THC". This is mandatory. The packaging will also have messages like "Keep out of reach of children", "Do not use if pregnant or breastfeeding", and "Cannabis smoke is harmful".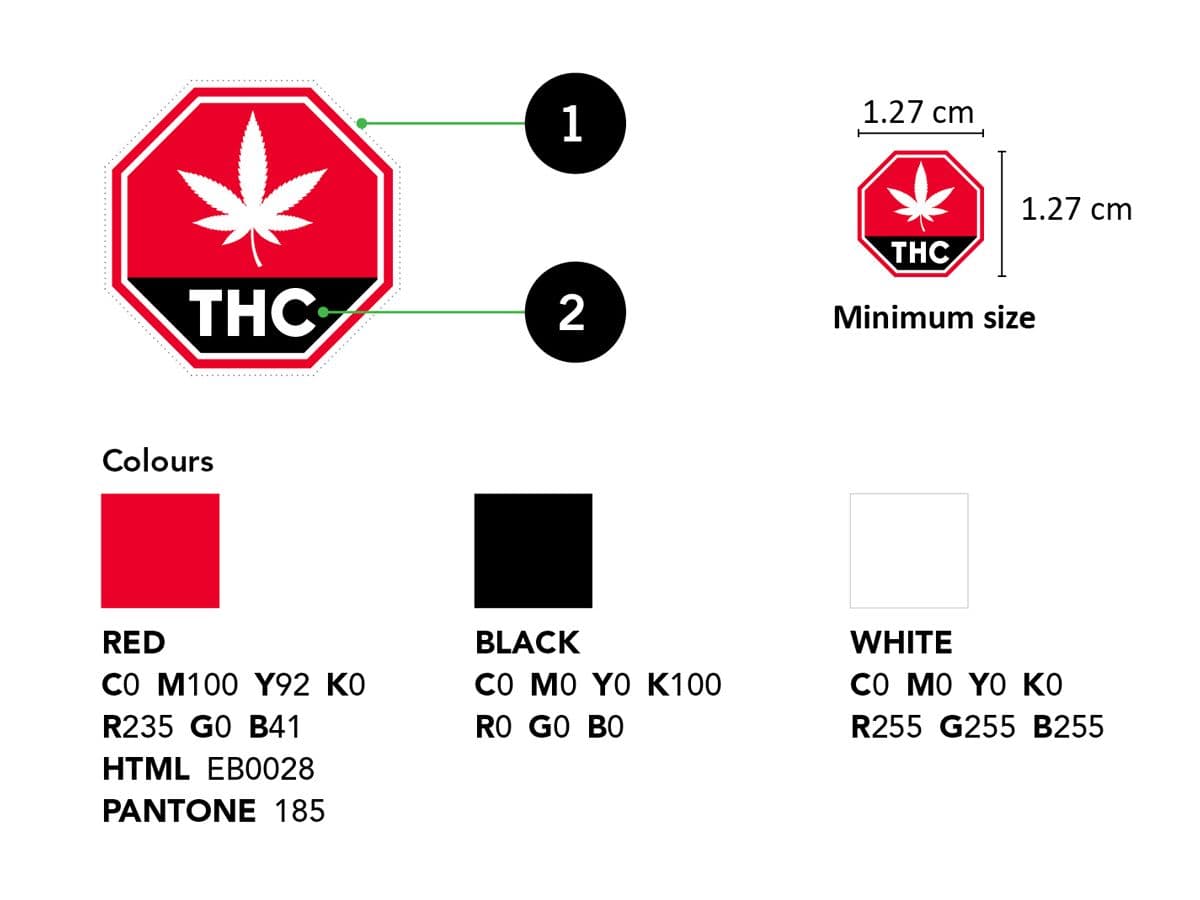 1. White border needs to be at least 2 points on all sides. 2. Needs to be visible under the usual conditions of purchase and use.
Each package should support a bright display of one of the six approved and recommended health warnings. These warnings must be printed on a yellow background. A few options are "Regular use of cannabis can increase the risk of psychosis and schizophrenia", "Cannabis can be addictive", and "Adolescents are at great risk of harms from cannabis".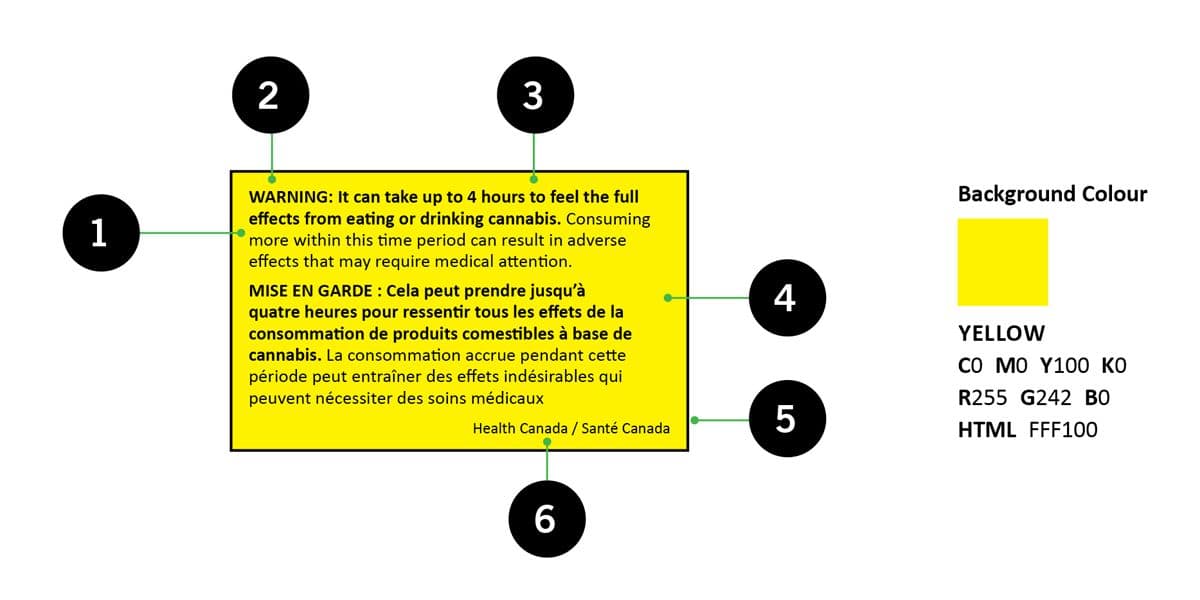 1. Left-justified without hyphenation. The second sentence must be in sentence case letters: standard black, not italic sans serif font. Type size of at least 7 points must be equal to or larger than the brand name type size.2. "WARNING" must be in bold upper case letters.3. The first sentence must be bold sentence case letters.4. Text must be readable from left to right when the container is displayed.5. Solid line of at least 1 point and has an inset of at least 6 points on all sides between the message and border. If there is one principal display panel, at least 3 points between the English and French message.6. There must be attribution to the source of the health warning message that is included on the label.
Producers can have one additional marketing or branding element present besides the brand name. However, even this concession comes with restrictions. If the producer decides to use a logo, it cannot be bigger than the standardized cannabis symbol. If a slogan is used, the text cannot be bigger than the health warning messages. It should also be of one colour. Metallic or fluorescent colours are prohibited, as are glossy embossing, texture, coatings, foil, peel-away labels, cut-outs, and package inserts.
These restrictions have created a problem for producers. Not having the freedom to brand, design and market their product and having to apply these strict rules makes it hard to distinguish their products.
A series of annexes of Cannabis Regulations provide the producers with all the details, such as the minimum size of the standardized logos, placement of the necessary information, and a list of health warnings.
A Cannabis Product That Meets the Packaging and Labelling Requirements
1. The standardized cannabis symbol2. The brand name of the cannabis product3. THC and CBD content4. Health warning message5. Other brand elements6. Other required information about the cannabis product7. Non-required information about the cannabis product8. Nutrition facts table9. List of ingredients10. Bar code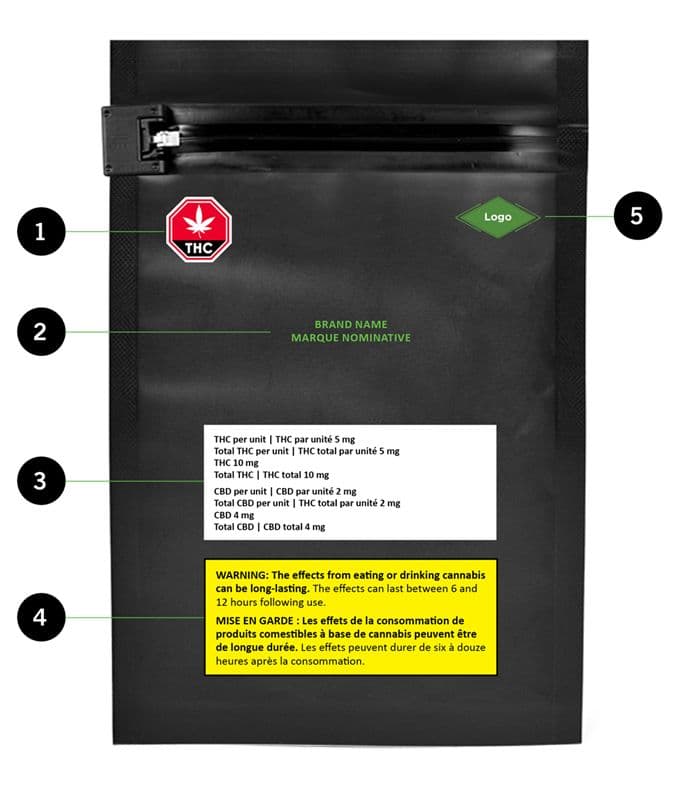 Medical Marijuana Packaging
Medical marijuana, generally, is packed in flat, with broad layers that offer more space for the producers to provide information about the dosage and ingredients, in addition to the required texts about caution and warnings. Following these mandates not only gains your brand a reputation for being honest and straightforward, but also keeps your consumers safe.
Medical marijuana must be packed in such a way that it is childproof. It should be difficult for kids to open it while being easy for adults to use it.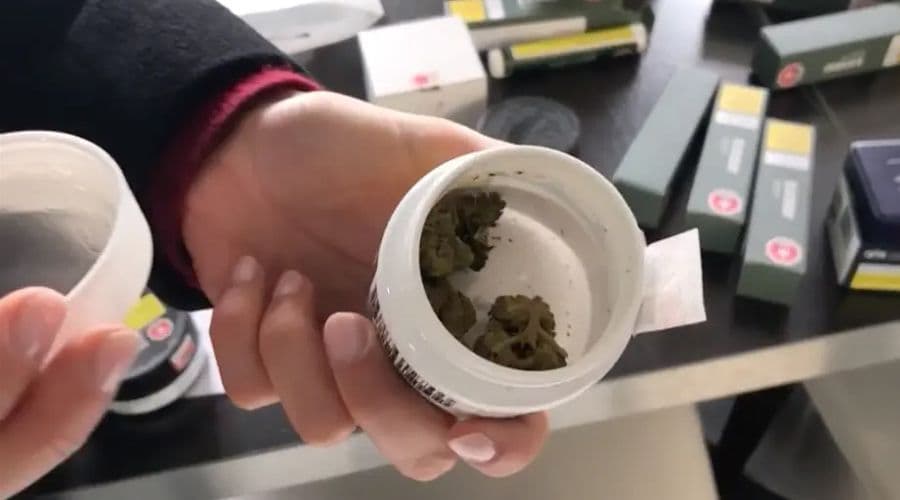 Tips for Better Cannabis Packaging
We follow all the rules and changes in Cannabis Regulations to ensure that the packaging complies with the laws. Providing excellent packaging for both medical and recreational marijuana is our goal. While the Cannabis Packaging Regulations mandate only uniform colours to be used, think of all the ways you can use that. Give your logo a new twist and let it tell your story as a brand. Since you can include a slogan, use it to your best advantage. Consider various options and think about how user-friendly can you make this product while still making it child-safe.
It is also a good idea to include instructions on how to use cannabis products. Offering your consumers detailed instructions will help them have a better experience rather than fumbling about, unsure of what to do. Again, make sure the packaging reflects your brand values.
Cannabis Packaging Design Process
Great design, secure packaging, and excellent branding are vital for any business. However, it is more important than ever when it is regarding cannabis in retail stores. It is essential that your packaging is appealing to customers. No matter what kind of cannabis you are marketing, our custom packaging solutions are designed to accommodate every type. We consider the state's cannabis regulations and figure out how best to incorporate them into the packaging.

How Can Newprint Help You?
From sourcing quality paper for the packaging and using simple but elegant designs to convey your brand image, we will assist you in every step along the way.
We offer cannabis packing with multiple options that you can choose from. We can also help you with environmentally friendly cannabis packaging that would appeal to consumers who are eco-conscious. Everything is done to form a reliable final product, from the materials used to the design and printing, making sure your packaging looks good on a retail shelf and that the product inside is in perfect condition.
Contact us if you need a reliable packaging partner, we would love to discuss your project.
"