Do you need some holiday card design inspiration? We got you covered. Holiday design can be elegant and subtle or fun and colorful. The important part is that it is cheerful and joyful.
The jolliest of all seasons is near.
We all know what that means. It is time for Christmas cards to be sent. Whether you send cards as a business or as a personal act of kindness, giving them your own touch is always special.
We have some holiday card design inspiration to help you create your own custom Christmas cards. It can get overwhelming to stay inspired year after year. But it is important to remember that the main part is spreading holiday joy. Your customers or friends and family will appreciate your personal touch. Don't be afraid to make it colorful and playful if it is part of your brand and personality. Or elegant and subtle if it suits you better. Even if you want to jump out of character and just send something joyful and retro, it's ok. The holiday season is about showing care and appreciation for people around us. And holiday cards are the perfect way to do just that. Not every gift has to be grand and expensive. Some simple gestures like sending a card can go a long way. It shows you care about your community and are thankful for their continuing support.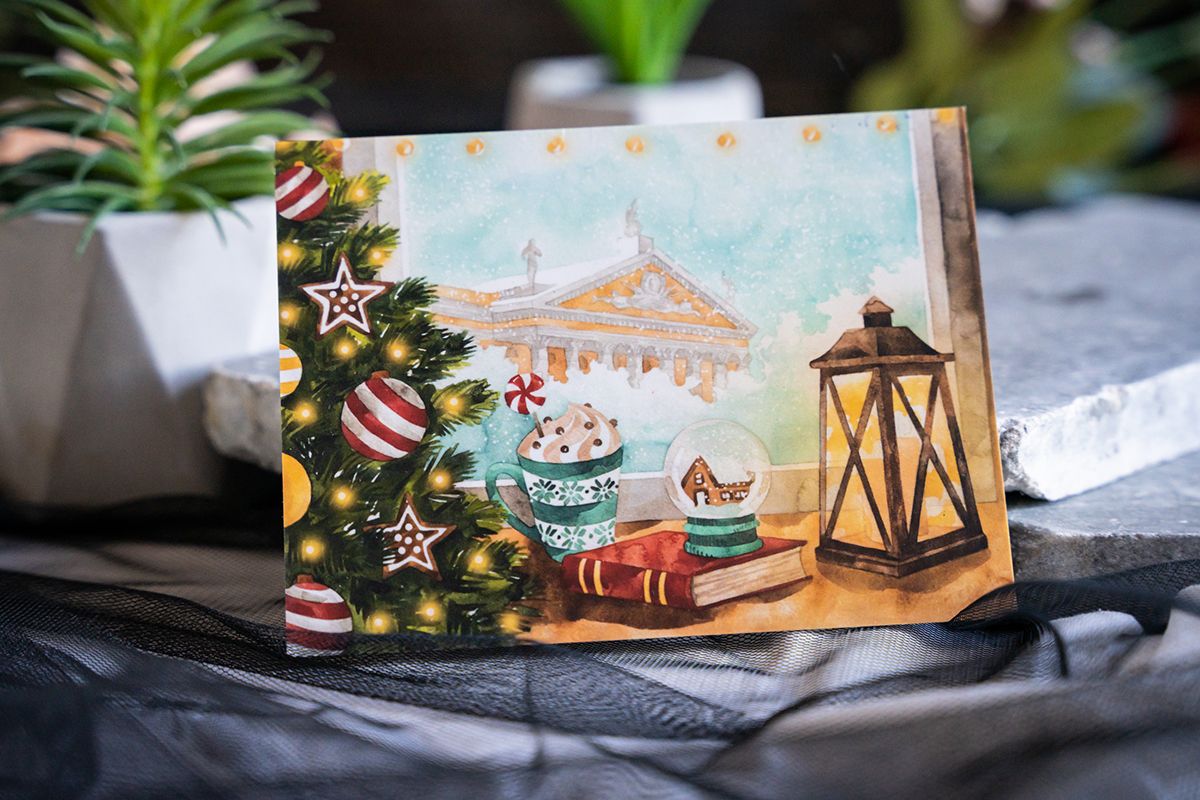 Make sure you don't turn your cards into an advertisement for your business. Nobody will appreciate that. Your brand colors and small logo on the outside or inside of the card will do the trick. Your company will be associated with a warm holiday feeling. Just remember that the one most essential and non negotiable part of the card is good wishes. And those should always be prominent.
It is better to risk putting a smile on someone's face without them realizing it came from you than to create a negative image by going too far in promoting your business.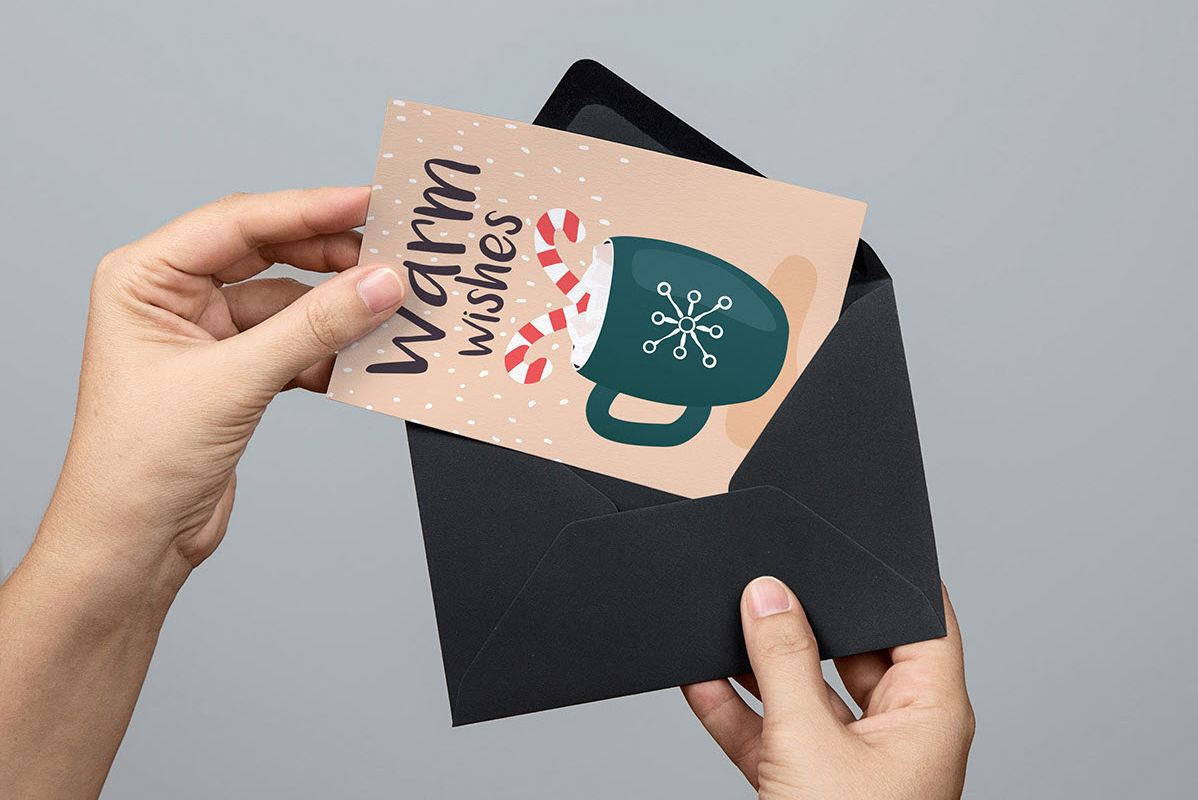 Holiday card design inspiration
Subtle and professional
There is absolutely nothing wrong with keeping it professional while sending your warmest wishes to your business partners. There are some very elegant Santas and reindeers out there in the world. Yes, I am joking. But only partially. Although we are mainly used to seeing symbols of Christmas represented in a childish and cartoonish way, it doesn't have to be that way. You can make these symbols of the holiday season more subtle, keeping the design professional.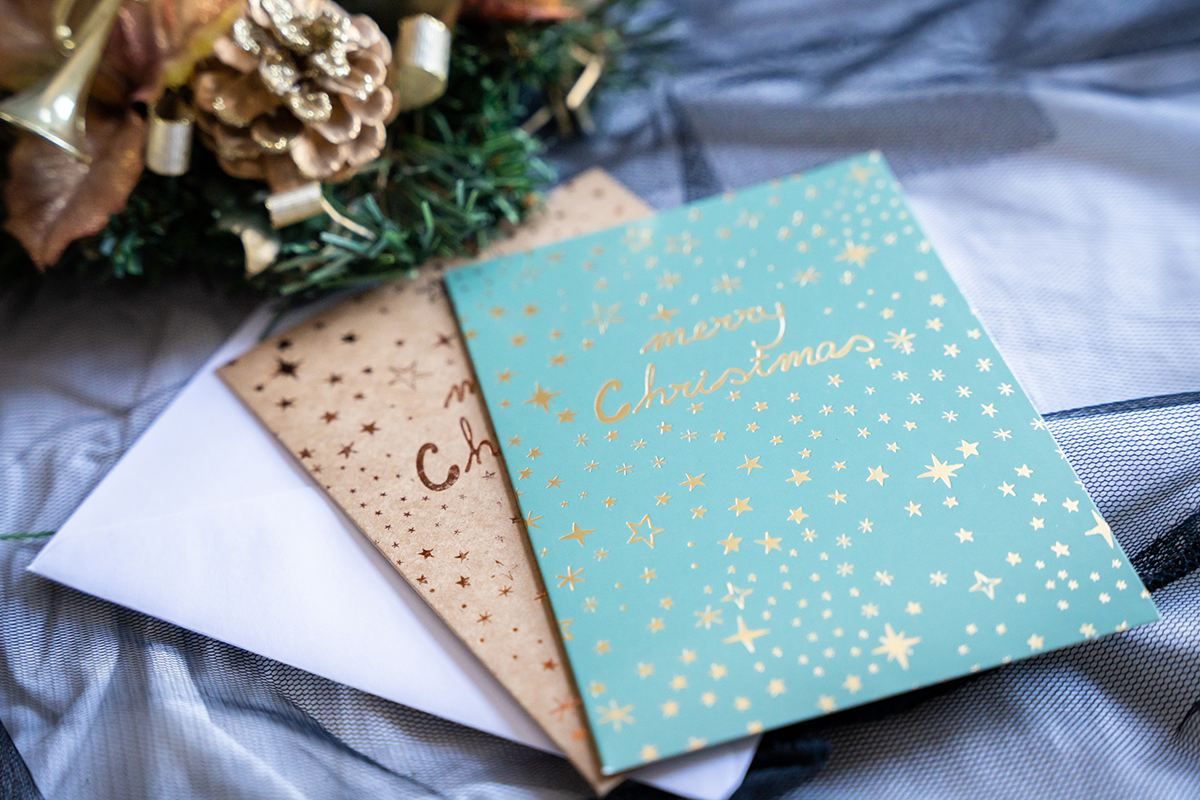 These simple but effective holiday cards are the perfect example of how you can make something both in the holiday spirit and professional-looking. Using gold foil for the stars makes the design both elegant and shiny. And we all love some shine during the Christmas season, don't we?
Having two options gives it an even more custom feeling. If some of your business partners work with each other and get different cards, it shows you really made an effort. And because one of them is on the craft paper, it shows the sender cares about the environment. Both options look very cheerful and elegant.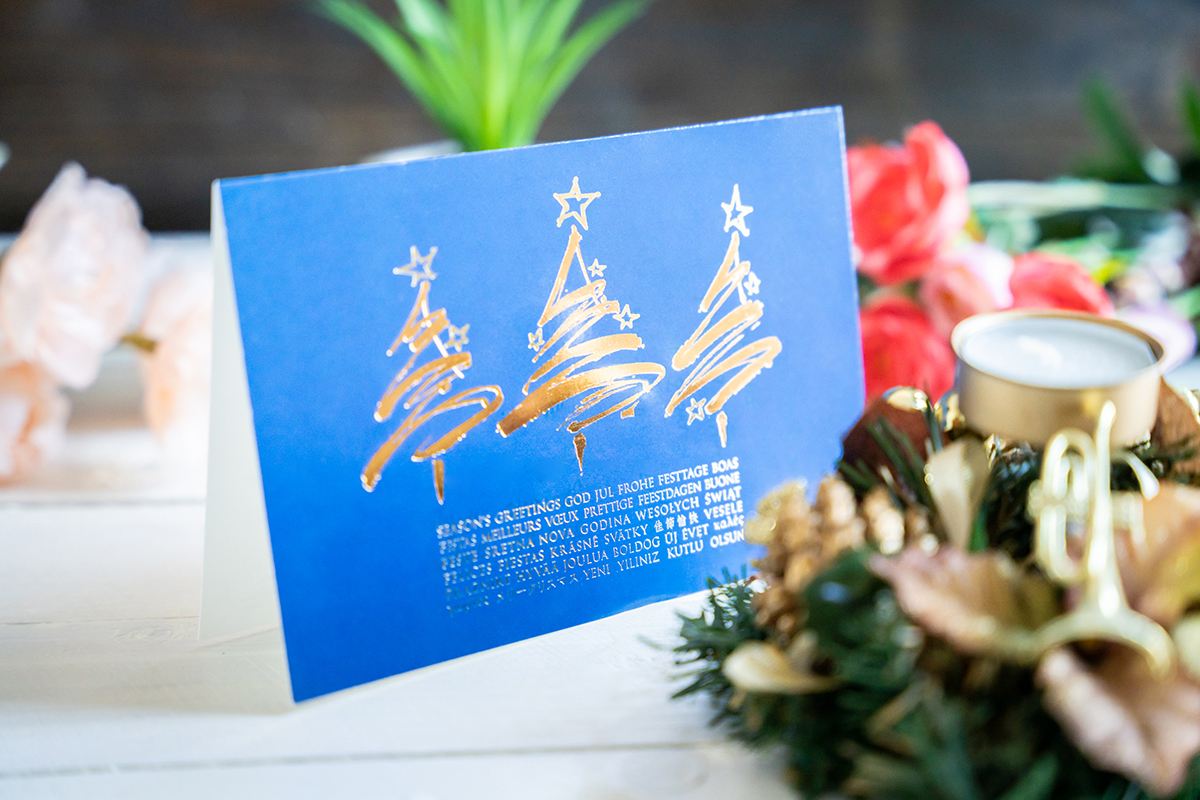 Nothing says it's the holiday season better than the Christmas tree. And three Christmas trees mean a lot of space for presents. Who doesn't want that? Gold foiling gives this card a more high-end look. And having seasonal greetings in different languages also makes it perfect for sending to international business partners.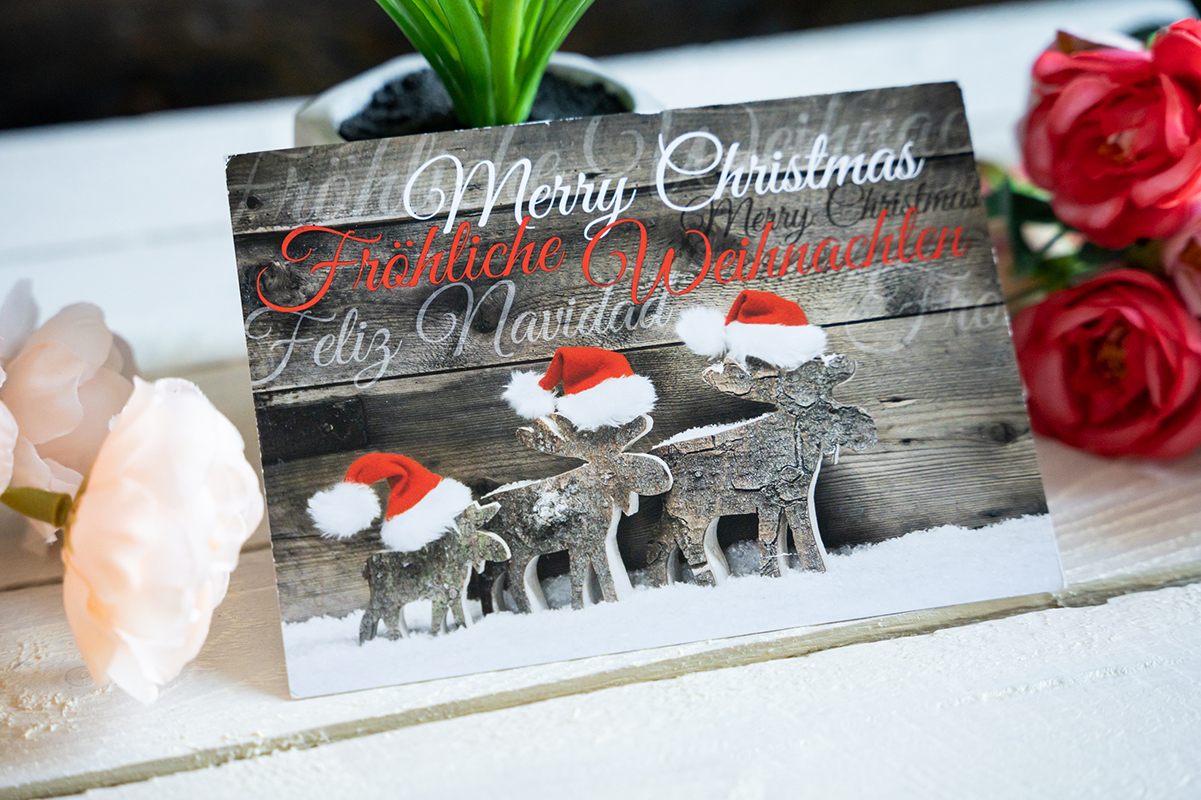 Adding some holiday twist to a simple design is also a good option. These reindeers are in no way eccentric, except they have Santa's hats on them. It says the sender can be playful and business oriented at the same time.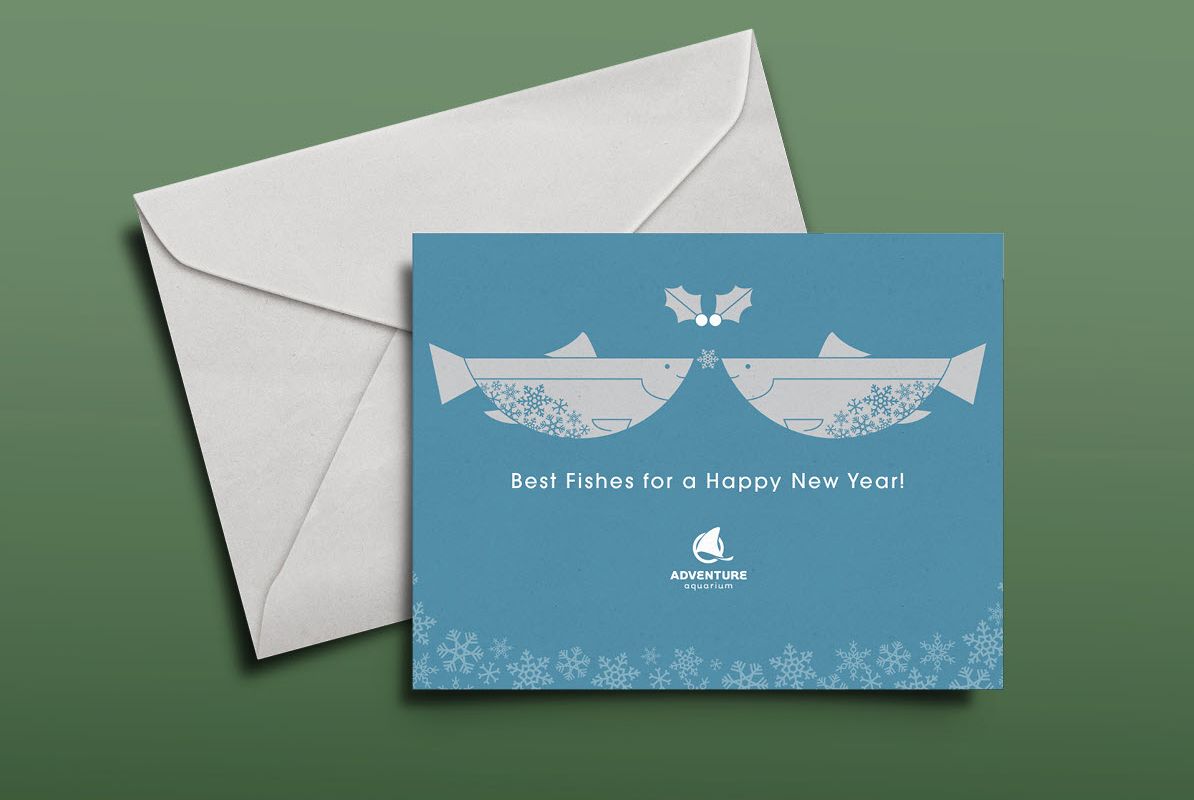 This card is the perfect example of creating a design that's all about your business without making it look like an advertisement. The fishes kissing under the mistletoe bring to mind holidays and the aquarium. The text is funny and memorable. It is similar enough to usual holiday wishes to make the purpose obvious but unique.
So, if you want to make something unusual and incorporate elements of your business into the design, this is an example of how to do it right.
Colorful and fun
As I already mentioned, there is nothing wrong with using a more cartoonish design to send your best wishes. Holidays are the perfect opportunity to show your cheerful side without it looking unprofessional to anyone.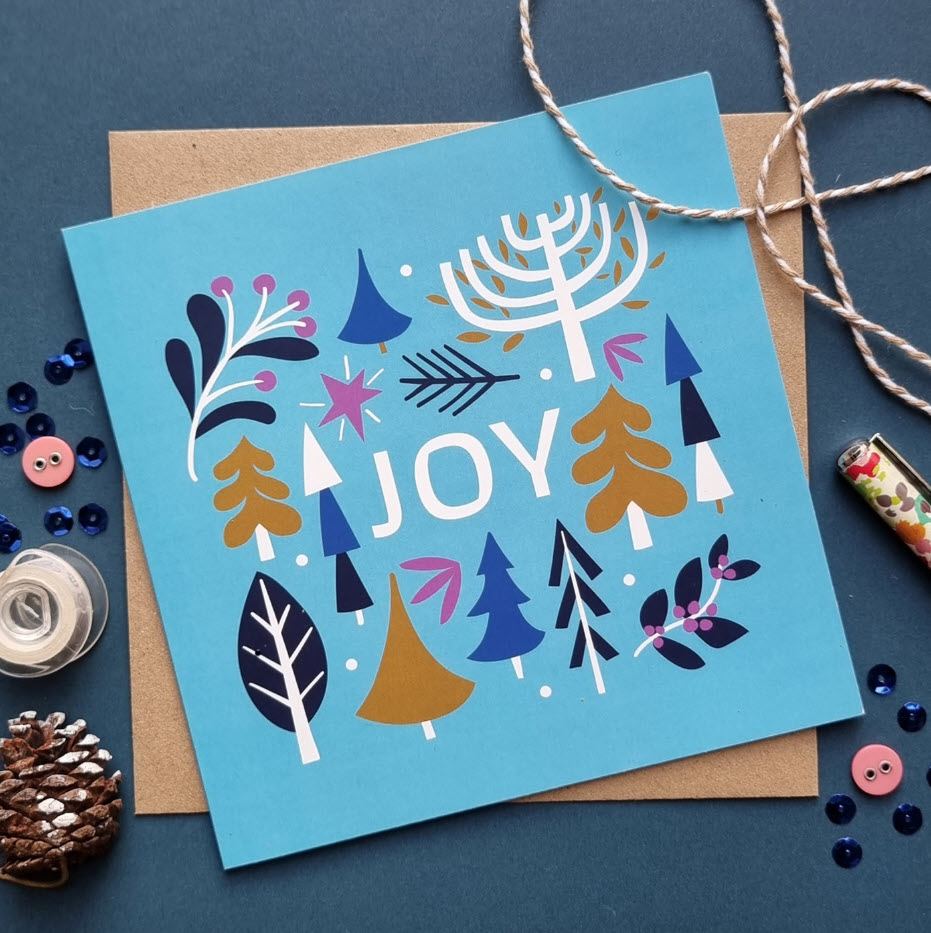 This cartoonish design looks both fun and elegant. It has just one simple but powerful word that perfectly summarizes all holiday wishes.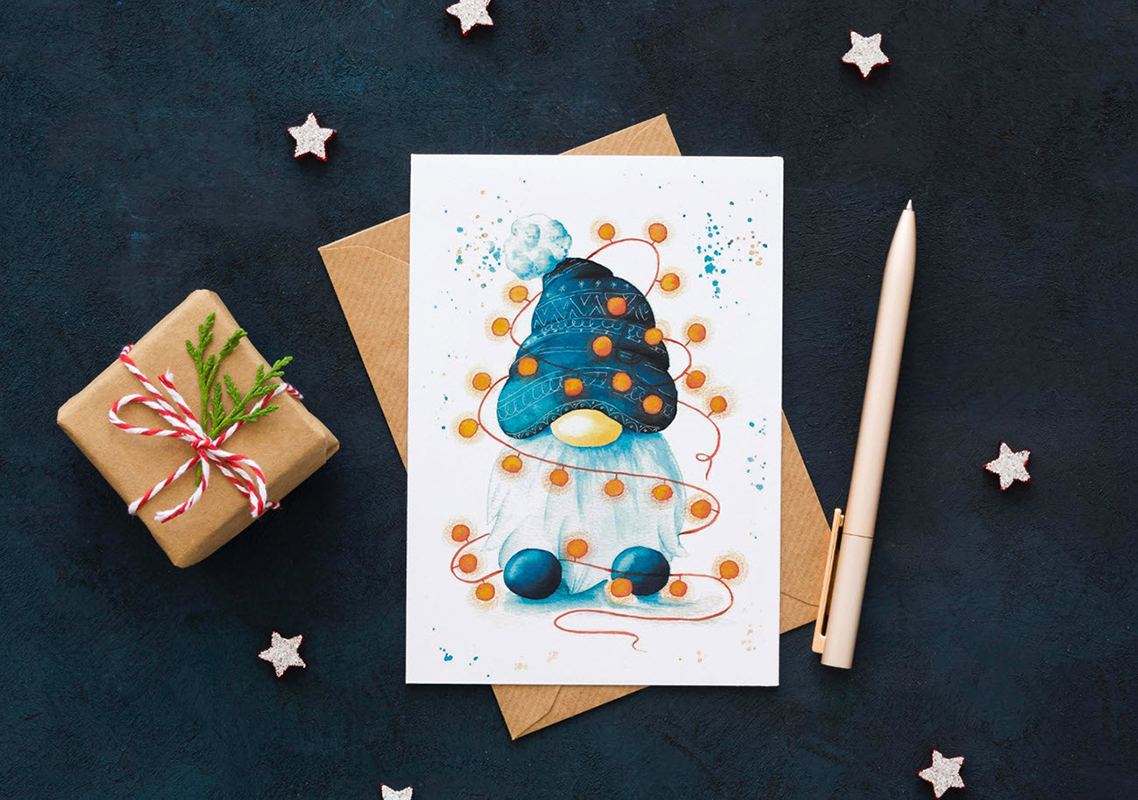 Santa's little helper with Christmas lights around him is playful and fun. But having just two colors also makes the design simple and elegant.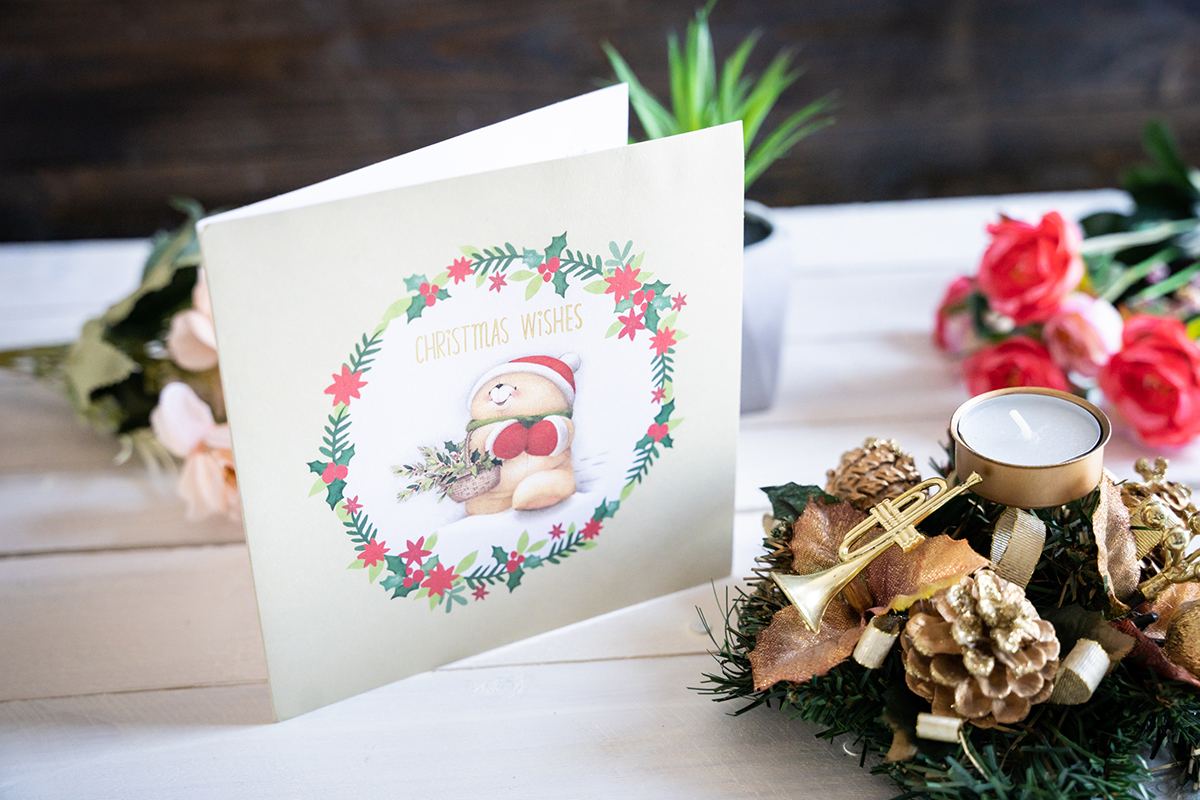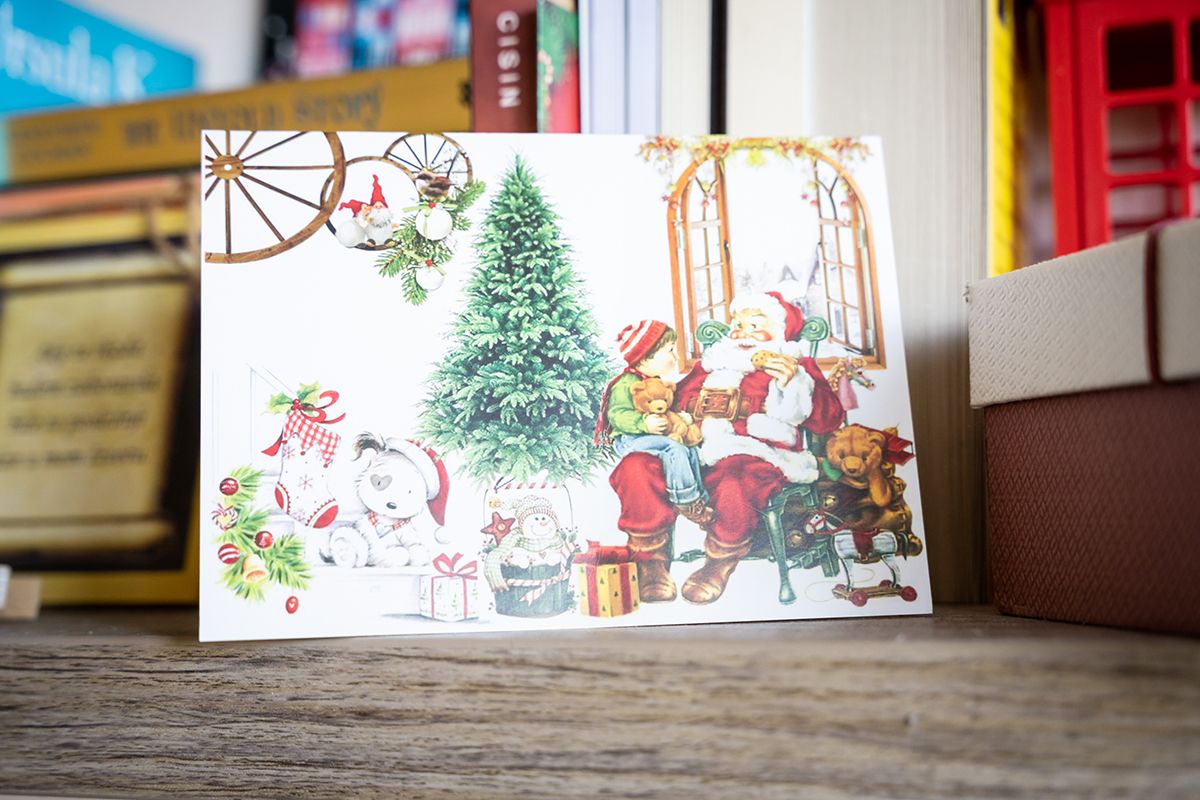 These two retro designs evoke childhood memories and simpler times. They look like they could have been sent by our grandmothers long ago. You don't need to shy away from nostalgia. It is an essential part of holidays. It's ok to go all in and make a card that feels like a warm blanket on a cold winter night. If nothing else, it will be different and memorable at this time when we tend to keep everything professional.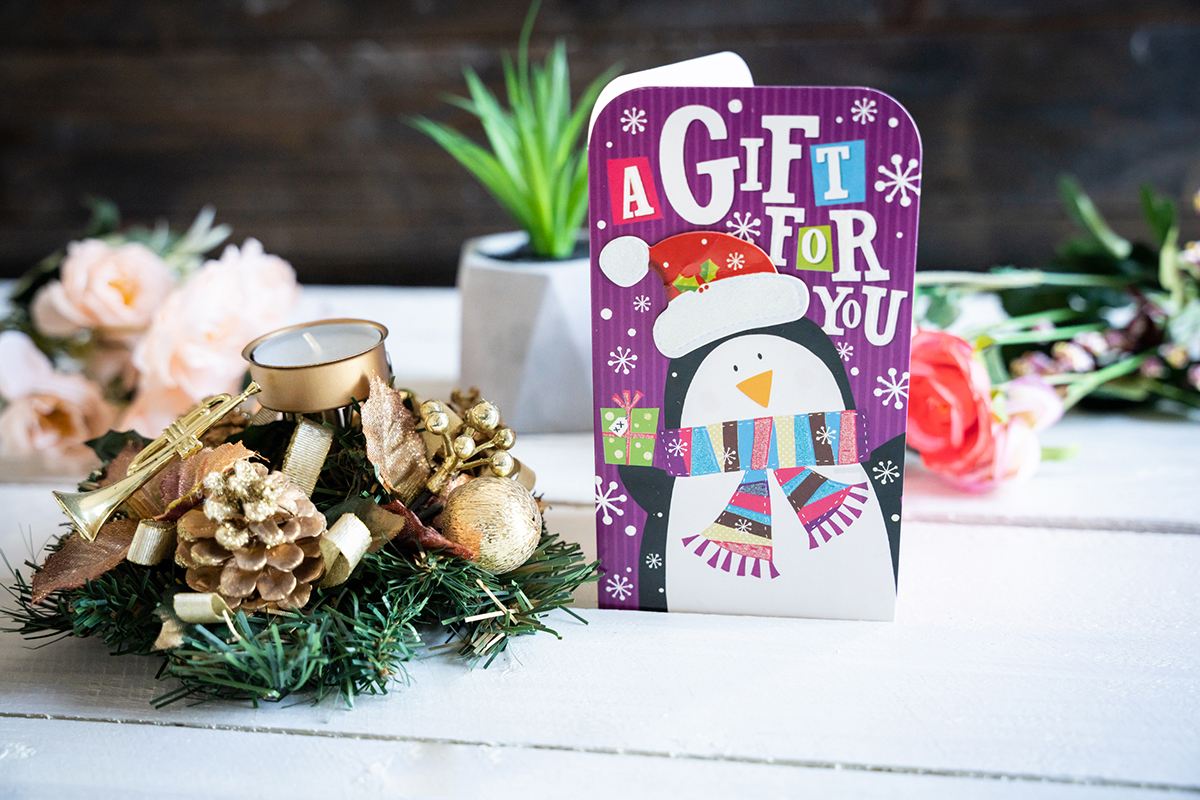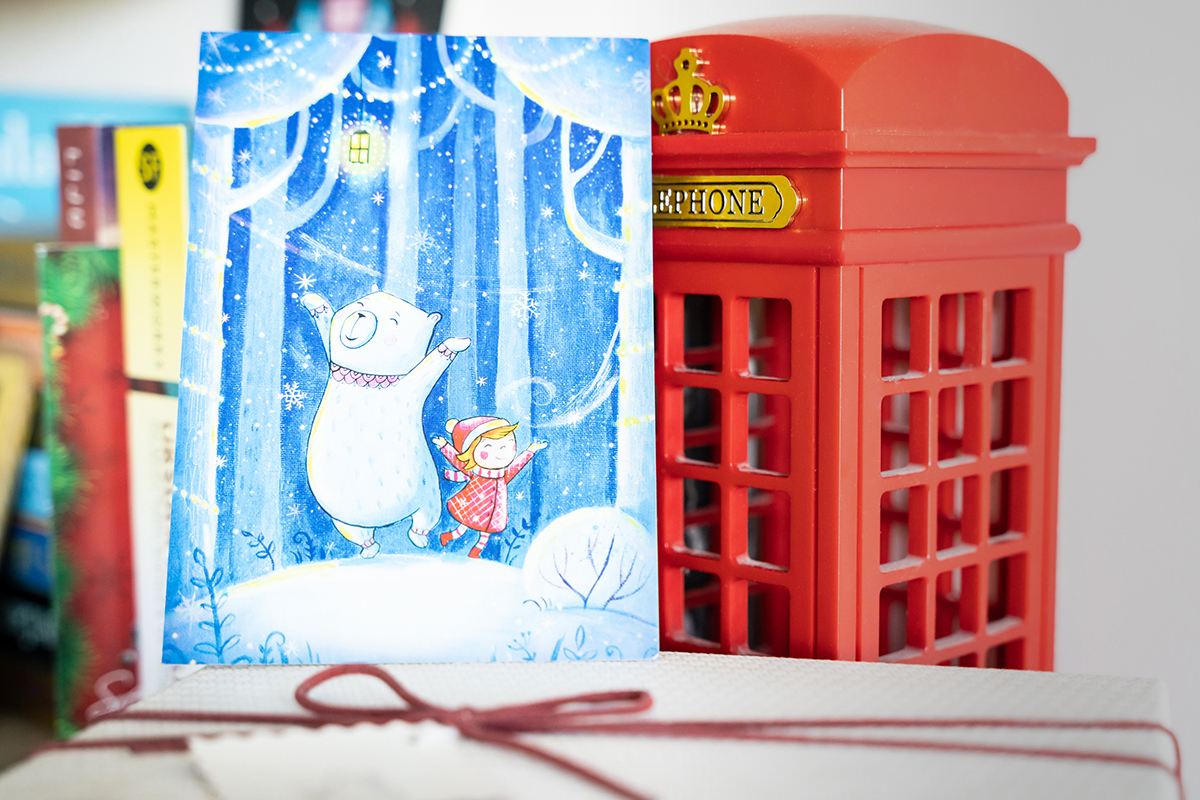 Last but not least, we have two very childish designs. They are the perfect choice for companies with products for children. You can send them to customers or business partners alike. After all, if you create products for kids, you must keep the fun and playful spirit. And what better time to let it loose than during the holidays?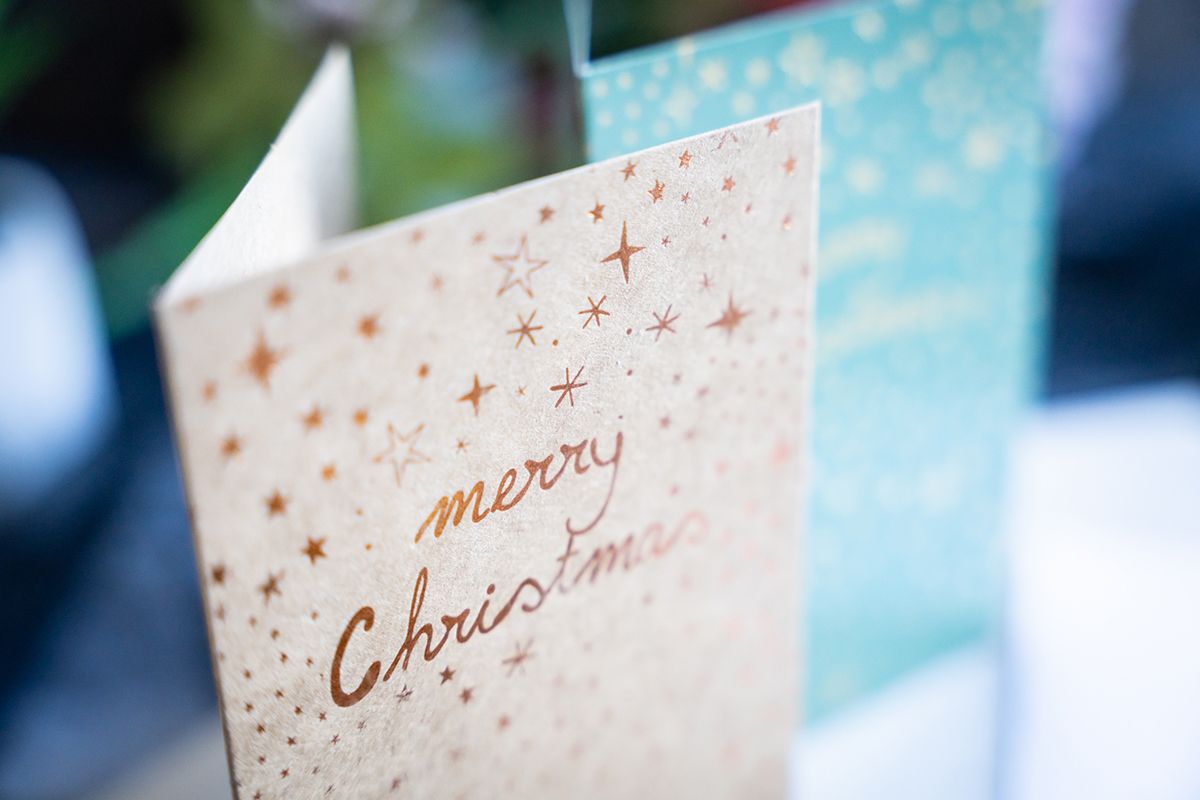 We hope our holiday card design inspiration has helped you get started. You can read our holiday packaging article to inspire you even more.
As you can see, even when keeping it simple, holiday designs usually have at least something that gives them that spark we all love and expect. This is the season to use all your shine and glitter to send the best possible wishes to your community.